Another podium finish and 3rd place in the Championship
MIRABEL, QUEBEC – After a coming off a podium finish at his home track at Calabogie in June, Nathan Blok and the APEX V2R racing team headed across the river to Complex ICAR at Mirabel, Quebec for the 7, 8 and 9th rounds of the Super Production Challenge (SPC).
The last time Blok raced at ICAR was 10 years ago when he was competing in the Formula Tour 1600 where he won back to back championships.

Qualifying for the 36 entrants took place Saturday morning in sunny conditions where Blok qualified 3rd in class.

The first 30 minute race of the weekend took place Saturday afternoon with the field lining up for a rolling start. Although starting in 3rd position, Nathan had some trouble at the start of the race and fell back to 4th position at the exit of corner 2. Being squeezed by Nelson Chan on one side and Sylvain Laporte on the other side of him, he ended up behind them both at the exit of corner 2.

On lap 2 going into corner 3, Nelson was on the inside and Kai Dalziel was on Nathan's left. Nelson overshot the corner and when K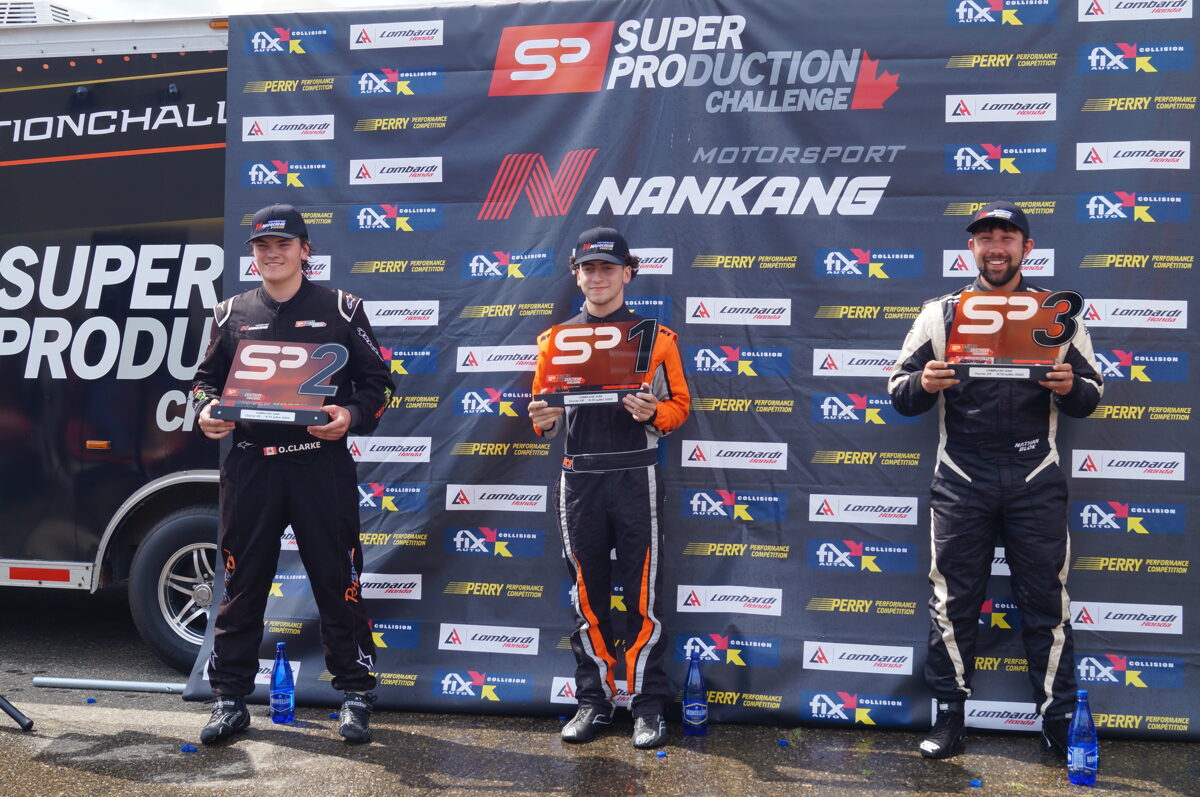 ai made his corner entry, Nathan had his nose on the inside and the two cars made heavy contact. Kai continued on with body work damage, but Nathan's alignment was seriously damaged and he had partial brake failure. To make matters worse, his engine went into safety mode which severely reduced his horsepower.

With 3 laps to go, despite his injured race car he passed Carlos Tesler-Mabe, however he was unable to make the pass stick. With two laps to go Sylvain pitted due to a tire issue and Nathan limped his car home to finish in 11th.

"A bit of red mist with frustration of losing so many positions at the start led me to make a move largely out of character, and cost me valuable points, and I did the best I could to recover for the rest of the race."

Thanks to the APEX V2R crew, Nathan's car was repaired and they thought ready to go for morning practice. However, practice made it very evident that the car was still running in safety mode with gravely reduced horsepower. With the second race of the weekend scheduled to start in less than an hour, the crew frantically diagnosed and solved the issue with only minutes to spare.

Again starting in 3rd for the standing start, Nathan fell back to 5th on the exit of corner 1, but Sylvain, Nelson, Kai and Nathan were bumper to bumper and continued to battle it out over the next few laps competing for 2nd place. Kai passed both Sylvain and Nelson, then Sylvain returned the favour by passing both Nelson and Kai. Nathan got into the action by passing Nelson, and the trio started to pull away from Nelson.

Nathan and Sylvain were battling it our for 4th place, which allowed Kai who was in 3rd place to slowly pull away.

With 2 laps to go Sylvain's again had tire issues and Nathan pulled past to finish the race in 4th place.

"I'm glad some redemption came my way shortly after, and I put on a respectable drive. Fortunately I got thrown a bone in the final laps with Sylvain's tire puncture, and got a better result than expected."

The final race started mid afternoon with Sylvain on pole, Owen Clarke 2nd, Nathan 3rd and Nelson 4th.

Going into corner 2 Nathan moved into 2nd place smoking up Sylvain's bumper. Two laps later Owen passed both Nathan and Sylvain and then on the next lap Connor Bell did the same.

Nathan stayed on Sylvain's bumper until about 1/2 way into the race when going into corner 1 Sylvain missed his breaking point trying to utilized a lap car and Nathan jumped on the opportunity and moved to the inside of Sylvain's car to take over 3rd place.

Continually pulling away for the rest of the race, Nathan brought his car home for a hard fought 3rd place podium finish.

"I had a good fight all race again with Sylvain and again got the best results I could have asked for. "

"Overall, I had a very up and down weekend, but I think the team and I did the best job we could to limit the damage in the championship, and recover the most we could. We also got lucky with every driver from 2nd to 5th in the title race having some kind of problem, myself included that made the points gap very tight. With gp3r coming up, and the points race so close, things are almost guaranteed to get exciting between the concrete walls in a few weeks. I would like thank all my sponsors for their continued support."

Despite having major problems on the race weekend, Nathan was still able to move up to 3rd place in the championship
Blok's next race weekend is August 5, 6 and 7 at the GP3R, Trois Rivieres, QC.

No comments
Leave a reply