Podium at Calabogie Motorsports Park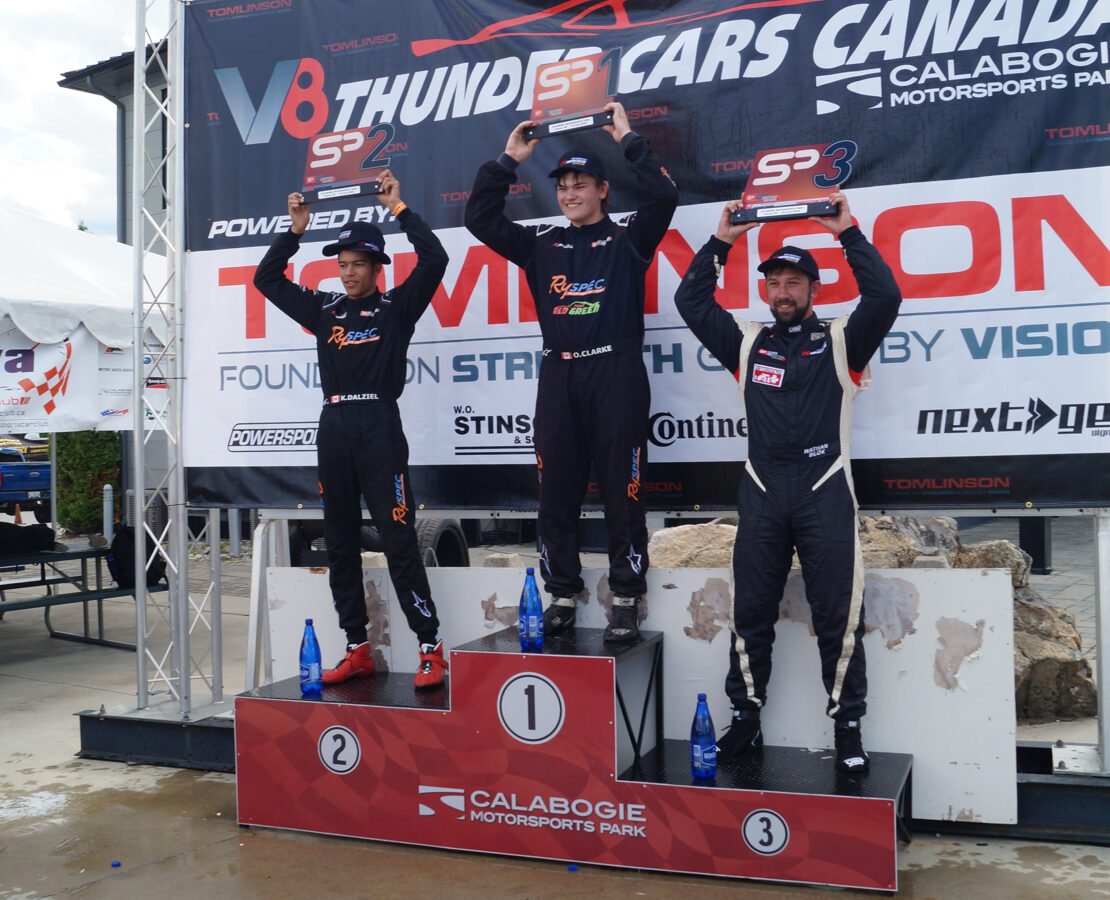 After a challenging weekend at the Canadian Tire Motorsport Park on the Victoria Day weekend Nathan Blok returned to his home track at Calabogie for rounds 4, 5 and 6 of the the Super Production Challenge (SPC).
Blok is no stranger to the 5.05 km Calabogie track, however both Nathan and the team realized that this would still be a challenging weekend given that although there are more corners at Calabogie, the long straights still favours his competitor cars with more horsepower.

Qualifying for the 42 entrants took place just before noon on Saturday in sunny conditions where Blok qualified 16th overall and 3rd in class.

The first and second 30 minute race of the weekend took place Saturday afternoon and Sunday morning respectively still under sunny conditions with the field lining up for the standing start. In both of these races Nathan put out a massive drive and was knocking at the podium for both of them, but unfortunately was only able to secure 4th place for both races.

The final race of the weekend took place on Sunday afternoon, this time with Nathan starting in 5th place in class. At the drop of the green flag Blok moved up into 3rd position. Fighting for 2nd spot he gets past #44 Kai Dalziel going into corner 1, then they go side-by-side through corner 2, with Dalziel squeaking past him coming out of corner 3. At the end of the straight #17 Joel Watts also gets past moving Nathan down into 5th.

Just ahead a car spun and Dalziel was forced onto the grass to avoid hitting him, allowing Blok to get past both Dalziel and Watts regaining 2nd place. At the next straight, Blok and #3 Suellio Almeida, Blok's teammate had a drag race for 1st position with Blok securing the lead.

At the end of the straight going into corner 5 on Lap 4 saw # 55 Owen Clarke try unsuccessfully to pass on the outside. At corner 6, Clarke again tried an outside pass and again Blok successfully defended. The battle continued with Clarke getting ahead on the straight after corner 6, but Blok successfully takes back the lead on the inside. A few corners later at 12 Clarke makes another unsuccessful attempt, with Blok maintaining the lead going through the quarry. Heading on the the straight just before the start/finish line both cars were able to manoeuvre around a bumper that had fallen off a competitor.'s car

With the extra horsepower, Clarke was able to pull ahead of Blok after corner 4 on Lap 5 and then Dalziel overpowered him in the same spot on Lap 6. Although they would pull ahead on the straights Blok was able to make up the distance in the corners and was still in the hunt for a 2nd place finish.

There was a full course yellow, so the bumper could be removed from the track. This put Blok at a disadvantage, allowing #45 Nelsen Chan and #50 Sylvain Laporte an opportunity to catch up to the field. When the green flag flew with only a few laps left, Blok was under immense pressure from both Chan and Laporte attempting passes at every opportunity. And after a cliff-hanging and monumental drive Blok came home with his first podium finish of the season, moving him from 8th to 4th in the championship.

"The start of Race 1 was actually quiet uneventful, but the battle I had with Nelson Chan at the end was lots of fun. Unfortunately he was able to catch and pass me. A few laps less and the results would have been far different.

Race 2 was quite uneventful. I was catching up to Kai in the last few laps, but some poorly timed lapped cars stopped me before I had time to get back and try to overtake him.
Race 3 however had so much happen, its hard to put it all in words. For a lot of that race I felt like I had a good chance of winning it, but settling for a podium with all the pressure I had behind me was still an amazing result.
Overall, seeing how much of a gap we closed from Canadian Tire Motorsport Park to Calabogie with only minor upgrades to the car, shows that we have the pace to fight for this championship. We aren't even half way, and with upgrades expected, the next race in ICAR we are expecting to take home a few race wins.
I would like to thank the crew for all their hard work and to thank my sponsors for their continued support Woody MVR, Arco Ltd, Sunsigns, H&H Construction, ENOES, Belder Tools, LAD's Auto Recyclers, NAPA Pembroke and TD Products."
Blok's next race weekend is July 9 and 10 at the ICAR Complex, Mirabel, QC.

No comments
Leave a reply