Challenging weekend at CTMP
Teaming up with the newly formed Ottawa based APEX V2R racing team this past Victoria Day weekend, 28-year old Nathan Blok returned to the track for the first time since 2019, wheeling a Scion FRS race car in the Production Class of the Super Production Challenge (SPC).
Given that the fast and challenging Canadian Tire Motorsport Park track favours cars with more horsepower, both Nathan and the team realized that this would be challenging weekend. The team are still doing engine development work as his engine was down 30 horse power from the other Production class competitors.
Qualifying for the 46 entrants took place in the early morning on Saturday in sunny conditions where Blok qualified mid field and 13th in class.

Late Saturday morning the 30 minute race began under sunny conditions with the field lining up for the standing start. At the drop of the green Blok who was doing his first ever standing start race had managed to pass several cars by corner 2. On the Andretti straight 3 cars got into a collision and one car went off the track and into the barriers. This caused a red flag on Lap 2 as repairs were needed to the damaged barrier and the race was unable to resume.

Race 2 that was scheduled for 4:15 pm was cancelled due to the track being hit early afternoon with severe wind, rain, thunderstorms and a small tornado. One person was hit by lightning and another person broke an arm when the canopy he was holding on to lifted him up and then dropped him. There was over a million dollars of damage to vehicles, trailers, campers, etc. The APEX V2R team 40' trailer was bent in the wind, causing the back door not to close. Fortunately, it was repairable and but there were 2 canopies damaged.

Mid morning on Sunday saw a wet track for Race 3 with a steady drizzling rain. With 40 cars starting the 30 minute race, the decision was made to have a traditional rolling start instead of a standing start for safety reasons. Again Blok started mid field and 13th class.

Going into corner 1 Blok was running 3 cars wide and by corner 3 he had moved up from 13th into 7th position. A full course yellow was waved as they entered corner 5, due to a crash at the start/finish line.
At the drop of the green flag on Lap 5 Blok passes Nelson Chan in his Mini Cooper, as directly in front of him Joel Watts and Shawn Greely came together with Watts spinning. Blok was forced to move right to miss the spinning car, nearly tagging the wall.

By corner 3 of lap 6 he passed two Super production cars and was on the bumper of Dalziel's Scion. Blok passed him going down the straight moving up to 4th position, but Daiziel remained right on Blok's back bumper.

By corner 2 of Lap 7 Blok had caught up to Paul Gravel in his Mini Cooper, but was unable to make a pass. Going into corner 3 Daiziel makes it passed both Blok and Gravel, but Blok would have nothing of it and passed Gravel back on the left and then continued the charge by passing Daiziel on the exit of the corner, elevating him up to 3rd place. Unfortunately by the end of the Andretti straight Gravel had pulled ahead of Blok again.

On corner 2 of Lap 8 Blok went wide, which allowed Daiziel to again get ahead. But not to be deterred, Blok continued on and by corner 5 he was back on his bumper.
On the exit of corner 5A, Daiziel goes to the inside and gets by Gravel as they exit the corner. Not to be discouraged, Gravel with Blok in tow, goes to the right of Daiziel and both Gravel and Blok make the pass.

Before corner 1 of Lap 9 Blok re-takes 4th position from Gravel, but was force to back out of the pass when a Super Production car re-entered the track right in front of him.

On corner 3 Daiziel takes the outside of the corner and passes both Gravel and Blok.

With all 3 cars continuing to battle Blok passes Gravel as they exit corner 5. Then getting a run on Daiziel, Blok is able to get by, but then Gravel passes both of them at the end of the straight.
Exiting corner 2 of Lap 10 Daiziel gets by Blok on the outside. Going into corner 4 Blok takes back the position from Daiziel, who immediately re-takes Blok on the inside of corner 5. However, by the exit of the corner Blok is back ahead with Daiziel spinning off the track and hitting the wall while trying to defend his position.

The track was starting to develop a dry line which provided the front wheel drive cars a definite advantage and the reduced horsepower of Blok's car was really starting to become evident in the performance, as Chan overtakes Blok for 5th position on the Andretti straight.

Corner 5 on Lap 11 had Blok held up by a Super Production class car who had mechanical problems, which allowed Laporte to get by him on the inside, and then down the Andretti straight Greely gets by as well.

On the exit of corner 1 of Lap 12 Tesler-Mabe gets by Blok and later Lupien gets by on the Andretti straight. Positions stayed static until Lap 13 when the checkers flew with Blok finishing 9th in class.

"We knew we needed a bit of luck to come our way due to our power problems, it's just unfortunate for everyone that it came in the form of a tornado. I did everything I could to recover from a weekend we were going to struggle in and I gave it my all, but on a drying track I wasn't going to be able to hold on to the positions I gained earlier in the race. The crew did an excellent job all weekend, and Calabogie should be a much stronger race for us. I want to thank my sponsors for their support Woody MVR, Arco Ltd, Sunsigns, H&H Construction, ENOES, Belder Tools, LAD's Auto Recyclers, and TD Products."

Blok's next race weekend is June 4 and 5 at the Calabogie Motorsport Park. With the engine upgrade not anticipated to be completed until at least the 3rd race weekend, the Calabogie event will also be a challenge.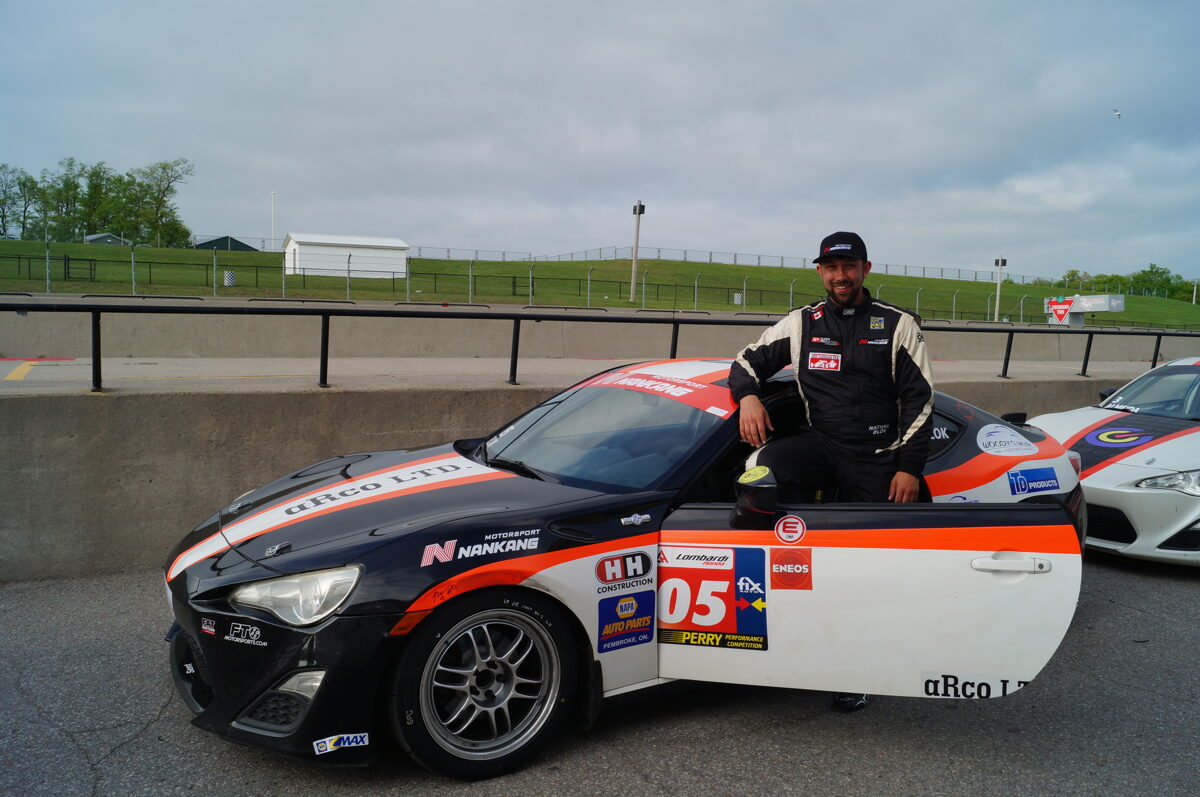 No comments
Leave a reply