Blok solidifies Championship lead at Bay of Quinte
BEACHBURG, ONTARIO – For Nathan Blok, the 21-year old, two-time Formula Tour Series Champion, the 2015 F2000 championship heated up as much as the asphalt at the Shannonville Motorsports racetrack this past weekend in his #88 car. The 7 & 8th rounds of the F2000 Canada championship continued under brutally hot & humid conditions during the inaugural running of the Bay of Quinte Grand Prix event. This is the first time Blok has raced at this track near Belleville, ON, and due to budget constraints had only 5 laps of practise on Friday in the rain on slicks.
In the qualifying session on Saturday morning, despite little practise Blok qualified 3rd with .7 of a second separating the top 3 cars.
The first F2000 Canada feature race of the weekend (Race 7 of 12) saw temperatures hotter than on Friday. Blok had a good start maintaining his 3rd place position into corner 1. Aaron Pettipas started to pull out an early lead, while Blok was all over Chase Pellietier challenging for 2nd. On lap 3 being pressured by Blok, Chase went off track. Blok took advantage diving past and securing 2nd place.
By the next lap Blok had caught up to Pettipas. For the next 12-laps it was a constant battle for 1st place. Pettipas would pull away on the straight with Blok catching up on the technical areas of the track. Despite numerous passing attempts and side by side action in the corners, Blok was unable to make his attempts stick and was still in 2nd place when the yellow flag flew due to a car stopping just off track. This was great news for Pelletier as he was able to make up the 10 second gap and was now challenging Blok for 2nd.
When the green flag flew with only 5 minutes to go, Blok right on Pettipas's gear box he continued to fight for the lead, making a last attempt in the final 2 corners. He was unsuccessful and the race ended with Blok in 2nd place behind Aaron Pettipas, with Chase Pelletier taking 3rd.
"I had the pace to keep up to Aaron and pass him, but Shannonville is a very difficult track to pass in one of these cars. I was almost able to make room on several occasions going into the final 2 corners. Aaron was able to get on the power sooner than I was, but it was a very closely matched race"
Sunday's race saw temperatures a bit higher along with increased humidity. This time Blok qualified 2nd, with less than .3 of a second separating him from pole sitter Aaron Pettipas.
When the green flag flew Pettipas held the advantage through the opening corners with Blok and Pelletier close behind. On corner 3 Pelletier attempted a bold move on the inside, but was unable to pull it off and his front wheel touched Nathan's rear wheel. This slight contact was not felt by Blok, but unfortunately did some damage to Pelletier's car and he was forced to pit to have an adjustment made before continuing on.
Round 8 of the F2000 Canada Championship was almost a carbon copy of Saturday's race with Pettipas getting the advantage on the straights and Nathan getting him back on the corners and challenging for the lead. At the end of the race Blok started to lose his tires and Pettipas started to gradually pull away. The race finished in the same order as Saturday, with Blok bringing home another 2nd place finish for the weekend and moving him into the lead of the F2000 Canada championship.
" My race with Aaron for 1st was just as intense as the day before, but I began to lose tires by the end. Even the cockpit adjustments weren't solving the issue, but I still gave it my all and kept up to the races end. My car was incredible all weekend, and I owe a big thanks to Britain West Motorsports for setting up an awesome car. It was also a pleasure to race in Shannonville. I go to school not far from here, and it was a pleasure to see many of my college friends in the stands this weekend"
Rounds 9 & 10 are scheduled for August 29 and 30 at Canadian Tire Motorsport Park and Nathan is hoping to be able to secure enough funding to allow him to maintain his lead in the championship.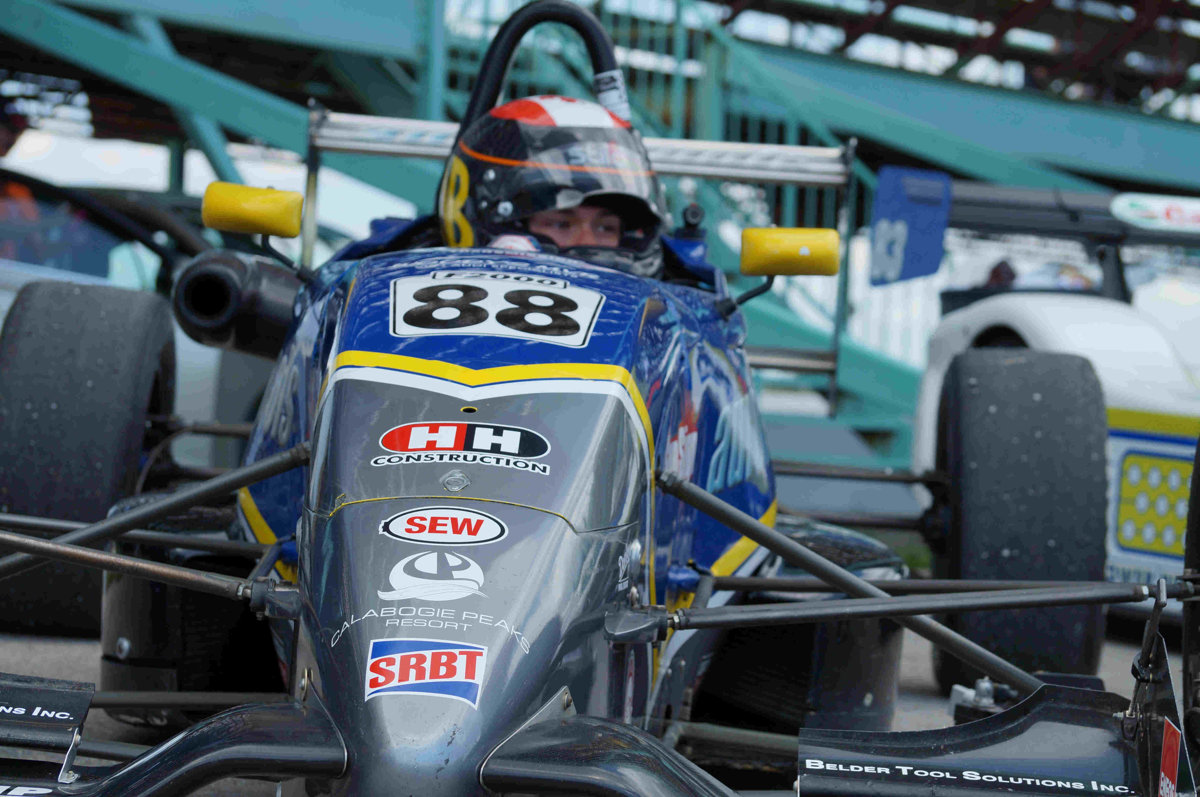 No comments
Leave a reply