Blok secures 2nd Victory in F2000 Championship
MAY, 2015 - BEACHBURG ON – Hot off an impressive double pole and double podium finish, Nathan Blok headed to his home track at Calabogie Motorsport Park this past weekend for rounds 3 and 4 of the F2000 Canada Championship. Blok dominated all weekend in the No. 88 car, in front of the home crowd, securing double pole positions and a first place finish.
Blok being no stranger to the 5.05 km Calabogie track, quickly took command on Friday by laying down the fastest lap in practice. On Saturday's qualifying session despite having an on-track altercation with a bird, Blok bettered his time and won POLE position with a lap time of 2:01.133, .44 of a second ahead of second place.
Saturday's race started in very hot and humid conditions with thunder clouds and rain storms looming in the distance.
Blok started from pole position with Chase Pelletier challenging him for the lead going side-by-side into the first corner. As the two Britian West Motorsport team mates came out of corner 2 Blok was in front. Pelletier stayed right behind Blok in the early part of the race, but Blok gradually started to increase the gap When the checkered flag flew Blok had won the race with a 9.6 second lead. Shortly after, the heavens opened up and the torrential rain started causing the rest of the race day to end early.
" I knew getting a good start would set the tone for the race. Fortunately that's what I got, despite a moment in Turn 1. From then on, I worked on building a healthy lead and then saving my tires for race 2 on Sunday."
The weather changed dramatically and it was cold and windy on Sunday when the F2000 cars hit the track for qualifying. Blok took his second pole position of the weekend with a time of 2:01.231. This time with just under 6 hundredths of a second separating 1st and 2nd .
Sunday's race started with confusion on the mock grid that had Pelletier positioned in the wrong slot. After trying to fix the problem on an access road, Pelletier's car stalled and the field was sent out around him while a safety truck restarted him. When the green flag fell Blok immediately took control and the lead of the race. Pelletier who had caught up to the back of the grid by the start of the race was working his way through the field. By the time he made it back up to the 2nd place position Blok had an 11 second lead on him. Blok settled into a rhythm and continued to gradually increase his lead to over 13 seconds, when disaster struck on lap 10. Blok's throttle cable broke and he was forced to pull off onto the access road at corner 8, handing the race over to Pelletier.
"The start was really confusing and disappointing. Chase and I had closer lap times and I was looking forward to a fight for 1st place. Up until lap 10 I had a perfect weekend, but the car had other plans. I would like to thank the Britian West team for all their hard work throughout the weekend and especially my sponsors for making this weekend happen. I would also like to welcome Calabogie Peaks and SRB Technologies as new partners."
Rounds 5 and 6 of the F2000 Canada Championship is being held June 27/28 at Canadian Tire Motorsports Park. Unfortunately due to funding issues, Blok may be forced to skip this race weekend, but is looking forward to competing in the DAC Trillium Trophy Race at the Shannonville Motorsport Park July 18/19.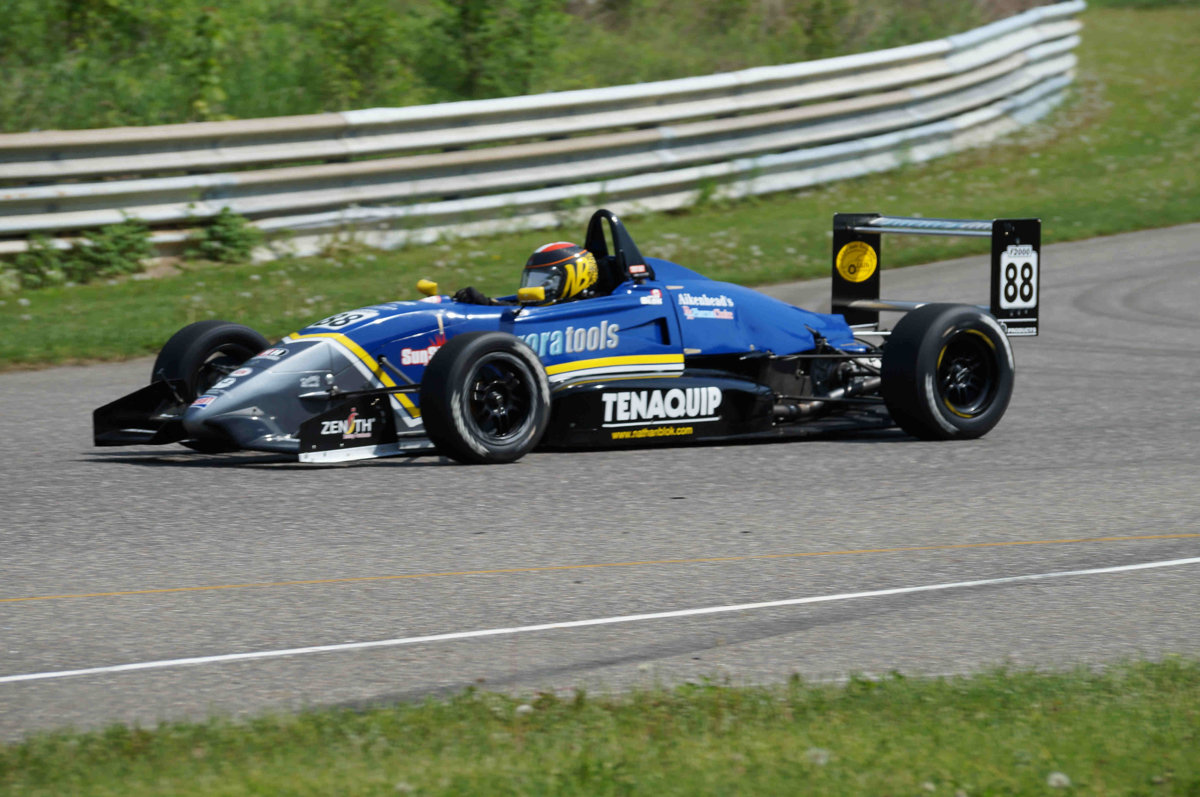 No comments
Leave a reply