Dragon's Den
Nathan Blok, a 17-year old racing driver, used a unique approach in seeking sponsorhsip money for his 2011 Formula Tour 1600 season.
Appearing on CBC's Dragon's Den television show, Blok was successful in securing support from Jim Trevling with his motorsports sales pitch.
Over 5,000 candidates auditioned, of which only 250 were chosen and of those only 125 made it to air on the 2011-2012 season.
Blok was one of the 18 "young" entrepreneurs who were picked from the applicants to appear on the 2nd top rated show with 2.7 million viewers.
Accompanied by his personal driving coach, veteran racer Claude Bourbonnais, Blok had his Formula 1600 race car with him during his appearance at the Toronto studios in May. The show was aired that fall.
To view Nathan's pitch on CBC's Dragons Den, click the photo below -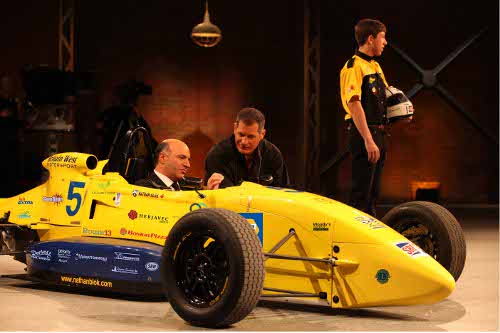 No comments
Leave a reply